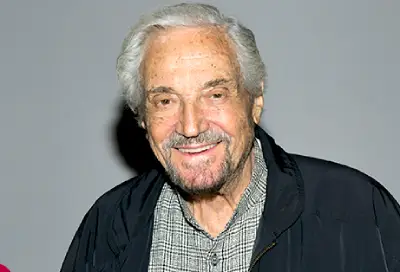 Hal Linden Biography
Hal Linden is an American actor, singer, and musician best known for his role as Captain Barney Miller on the popular television sitcom "Barney Miller." He has had a long and successful career in both television and theater.
Hal Linden Education
Hal studied at Herman Ridder Junior High School and the High School of Music and Art in Manhattan and later enrolled at Queens College, where he studied music and psychology. RELATED: Steve Keeley
Hal Linden Age
How old is Hal? Hal is 92 years old as of 2023. He was born Harold Lipshitz on March 20, 1931, in New York, New York, United States of America.
Hal Linden Nationality and Ethnicity
Hal holds American nationality and citizenship by birth. She was born and raised in New York, New York, United States. He belongs to the Jewish-American ethnicity/heritage/ancestry.
Hal Linden Height
How tall is Linden? Linden stands at an average height of 6 feet. RELATED: Bob Kelly
Hal Linden Family
Hal was born to Lithuanian Jewish parents. He is the son of (mother) Frances Rosen and (father) Charles Lipshitz. He has an older brother Benard, who became a professor of music at Bowling Green State University.
Hal Linden Wife
Is Hal married? Hal was married to his late wife Fran Martin, a dancer. The couple got married in 1958, through a private wedding ceremony. His wife Fran died in 2010. As of now, he is currently single. He is a proud father to four children, Nora Kathryn Linden, Ian Martin Linden, Jennifer Dru Linden and Amelia Christine Linden.
Hal Linden Still Alive | Today
Hal is currently alive and there have been no reports of him having health-related issues. He currently pursues his acting career. Though, he lost his wife and the mother to his children in 2010.
Hal Linden Movies and TV Shows
After college, Linden served in the United States Army, where he played the clarinet in the Army Band. Upon completing his military service, he pursued a career in music, performing as a clarinetist and saxophonist in various bands and orchestras. He even played with the famous big band leader Sammy Kaye. RELATED: Jennaphr Frederick
Linden's passion for music eventually led him to the world of theater. He studied acting at the American Theatre Wing and made his Broadway debut in 1958 in the musical "Bells Are Ringing," alongside Judy Holliday. He went on to appear in several other Broadway productions, including "On a Clear Day You Can See Forever" and "The Rothchilds," which earned him a Tony Award for Best Actor in a Musical in 1971.
In 1975, Linden landed the role that would make him a household name, as Captain Barney Miller in the television series "Barney Miller." The show, which depicted the daily lives of a group of police detectives in a New York City precinct, was a critical and commercial success. Linden's portrayal of the level-headed and compassionate Captain Miller earned him multiple Emmy Award nominations and a Golden Globe Award.
Following the success of "Barney Miller," Linden continued to work in television, appearing in various series and made-for-TV movies. He also appeared in films such as "Out to Sea" and "Time Changer." Additionally, he made guest appearances on popular shows like "The Love Boat," "Fantasy Island," and "Law & Order: Special Victims Unit."