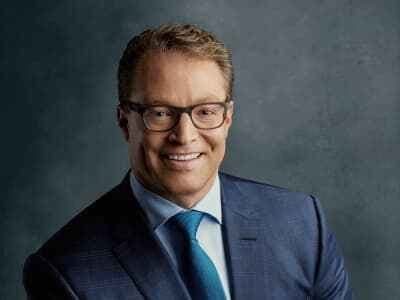 Last updated on July 30th, 2022 at 12:35 pm
Robert Frank CNBC Biography | Wiki
Robert Frank is an American award-winning journalist and best-selling author currently working as a reporter, host and editor at CNBC network based in New York. Before joining CNBC, he worked as a foreign correspondent for 18 years at The Wall Street Journal.
Robert Frank CNBC Education
Frank attended and graduated from the State University of New York at Binghamton with a bachelor's degree in Literature. More information regarding his educational background is currently under review.
Robert Frank CNBC Age
How old is Robert? Robert is 54 years old as of 2022. He was born Robert Louis Frank in 1968, in Stone Ridge, New York, United States of America. Information regarding when he celebrates his birthday is currently under review. ALSO READ: Diana Olick
Robert Frank Nationality | Ethnicity
Frank holds American nationality and citizenship by birth. He was born and raised in Stone Ridge, New York, United States. He is of White ethnicity/heritage.
Robert Frank CNBC Height
How tall is Robert? He stands at an average height of 5 feet 7 inches (1.70 m). His other body measurements are currently under review. We will update his information once confirmed publicly.
Robert Frank Personal Life | Family
Frank was born and raised in Stone Ridge, New York by his parents. He is the son of (mother) Kathi Robinson Frank and the late father John Louis Frank who passed away on March 5, 2018. His mother was an early childhood education specialist in Yonkers for the State Bureau of Child Care, is now an artist specializing in painting. His father was a retired professor of fine arts at SUNY at New Paltz and was also a painter.
Frank is the only son to her parents. He has two biological sisters Natia Frank and Heather Frank Johnson. He also a step-sister Jennifer Tinker and a step-brother Benjamin Tinker.
Robert Frank CNBC Wife
Robert is currently married to his wife Rebecca Hope Patterson, a Chief Investment Officer at Bessemer Trust, managing more than $70 billion worth of high-net-worth family assets and serving as a member of the firm's management committee.
Rebecca graduated with honors from the University of Florida and received a master's degree with honors in international politics and economics from the Johns Hopkins University School of Advanced International Studies.
Robert CNBC Wedding
Frank married his wife Rebecca Patterson on July 14, 2001, at the Episcopal Church of St. John the Evangelist in Barrytown, New York. Their wedding was officiated by Rev. Ginger Grab.
Robert Frank CNBC Daughters
Frank and his wife Rebecca are proud parents to two daughters. The family currently resides in New York.
Robert Frank CNBC Bodybuilding
Robert's information concerning bodybuilding is currently not available. However, we will update once confirmed available in the limelight.
Robert Frank CNBC Books
Frank is the best-selling author who has written two books including "Richistan," a New York Times best-seller, and his second book "The High-Beta Rich," released in 2011.
Robert Frank CNBC Salary
Robert working as an editor and reporter at CNBC network based in New York earns an estimated annual salary ranging from $75,000 – $350,000.
Robert Frank CNBC Net Worth
Robert as an accomplished American award-winning journalist, anchor, correspondent and best-selling author has a net worth of $7.5 million.
Robert Frank CNBC Wikipedia
Robert is an award-winning journalist currently serving as an editor and reporter at CNBC based in New York. He joined the CNBC network in April 2012, where he hosts the CNBC Prime show "Secret Lives of the Super Rich." Rober t is a leading authority on "The American wealthy."
READ: Frank Thorp V NBC, Bio, Wiki, Wife, Married, MSNBC, Hallie, Height, Salary and Net Worth
Robert appears on CNBC and writes for CNBC.com. and also he appears frequently in the Today Show, the Nightly Business Report on PBS and MSNBC. He also reports about the culture of wealth and economics including investing, taxes, wealth management, wealth creation to the fast-growing luxury economy, including high-end real-estate, art, wine, sports cars, private jets and yachts to jewelry, food and travel.
Before joining the CNBC network, he worked as a senior writer and reporter for 18 years at The Wall Street Journal where he was a foreign correspondent in London and Singapore. From 1996 to 1999, he covered Eastern Europe and European business and from 1999-2001, he covered Southeast Asia. In 2001-2003, he also reported mergers and acquisitions and Wall Street. In 2003, he also created a new report focused on the wealthy.