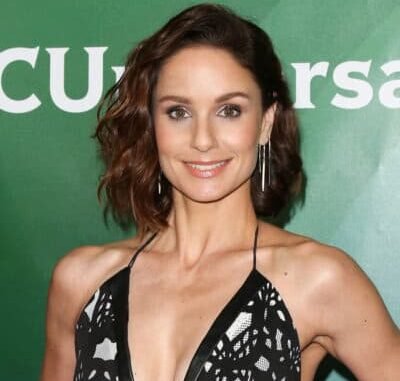 Last updated on February 27th, 2023 at 12:52 am
Sarah Wayne Callies Biography
Sarah Wayne Callies is an actress from the United States of America who is best known for her appearances as Lori Grimes in "The Walking Dead" and Dr. Sara Tancredi in "Prison Break." She also played Katie Bowman in USA Network's "Colony" and Robin Perry in NBC's "Council of Dads."
Sarah Wayne Callies Age and Birthday
How old is Sarah? Sarah is 46 years old as of 2023. She was born Sarah Wayne Callies on June 1, 1977, in La Grange, Illinois, United States of America. She celebrates her birthday on June 1st of every year.
Sarah Wayne Callies Education
Sarah Wayne went to Punahou School and took part in a number of school productions throughout her time there. After that, Callies enrolled at Dartmouth College in Hanover, New Hampshire. She then continued her education at the National Theatre Conservatory, earning a Master of Fine Arts degree in 2002.
RELATED: Kevin Costner Bio, Age, Wiki, Net Worth, Wife,Family, Siblings, Children, Movies
Sarah Wayne Callies Nationality and Ethnicity
What ethnicity is Wayne? Sarah belongs to a mixed ethnicity/heritage, she was born and raised in La Grange, Illinois, in the United States of America, and she holds American nationality.
Sarah Wayne Callies Height
How tall is Sarah? Sarah Wayne stands at a height of 5'9″ (175 cm) tall.
Sarah Wayne Callies Parents – Family
Sarah is the daughter of (mother) Valerie Wayne and (father) David L. Callies. Her father and mother both worked as lecturers at the University of Hawaii in Manoa. Her ancestors are German, Czech, and Jewish. When she was a child, her family relocated to Hawaii.
Sarah Wayne Callies | Husband | Married
Callies has been married to American martial artist and instructor Josh Winterhalt since July 21, 2002. During their studies at Dartmouth College, the pair met and began dating soon after. They walked down the aisle and married after dating for a while.
Sarah Wayne Callies Children – Kids
Wayne and her spouse have two children together. In 2007, their first child, a daughter named Keala Winterhalt, was born. Oakes Wayne, an adoptive boy born in 2013, is their second child.
Sarah Wayne Callies Net Worth
Sarah has an estimated net worth of $5 million.
Sarah Wayne Callies Prison Break
Callies turned up for a role during the cast auditions for Fox's Prison Break series and is claimed to have been the first one the producers viewed for the character of Sara Tancredi. She was cast in the role and went on to become the show's first main cast member. She made appearances in seasons 1 and 2, as well as seasons 4 and 5. She pretended to be the daughter of Governor Frank Tancredi and the prison doctor at Fox River. As the series unfolds, her character develops feelings for Michael Scofield (Wentworth Miller), assists him in escaping from prison, and joins him on the run.
Sarah Wayne Callies In The Walking Dead
Callies auditioned for the character of Lori Grimes in the AMC horror series "The Walking Dead" just before it began filming in 2010. From the beginning of season one to the end of season three, she portrayed her character.
Sarah Wayne Callies Career
In 2003, Sarah Wayne Callies made her television debut in an episode of 'Law & Order: Special Victims Unit.' She later appeared in a 'Dragnet' episode in a 'Queens Supreme episode. She went on to play investigator Jane Porter in the drama 'Tarzan' shortly after.
RELATED: Jim Morris (Producer) Bio, Age, Wiki, Net Worth, Wife, Family, Movies, TV Shows
In 2005, she appeared as agent Kim Hall in the television series 'Numb3rs.' She was also cast as Sara Tancredi in the drama series 'Prison Break' the same year. Callies appeared in four episodes of 'Queens Supreme two years later, in 2007. She also starred in the film 'Whisper' around this time. She then appeared in 'Prison Break: The Final Break,' a television film. In the television series 'The Walking Dead,' Callies played Lori Grimes.
she got featured in the films 'Black Gold', 'Faces in the Crowd', 'Black November', 'Into the Storm' and 'Pay the Ghost'. The actress then began playing the role of Katie Bowman in the series 'Colony' in 2016. A year later, she starred as Sara Tancredi in the TV movie 'Resurrection: Prison Break'. She also acted in the film 'This Is Your Death' that year.
Sarah Wayne Callies Movies and TV Shows
MOVIES
♦ 2017 – The Show as Karina
♦ 2016 – The Other Side of the Door as Maria
♦ 2015 – Pay the Ghost as Kristen
♦ 2014 – Into the Storm as Allison Stone
♦ 2012 – Black November Kate Summers
♦ 2011 – Black Gold as Kate Summers
♦ 2011 – Faces in the Crowd as Francine
♦ 2011 – Foreverland as Fran
♦ 2010 – Lullaby for Pi as Josephine
♦ 2008 – Bittersweet as Robyn
♦ 2007 – Whisper as Roxanne
♦ 2006 – The Celestine Prophecy as Marjorie
TV SHOWS
♦ 2020 – Council of Dads as Robin Perry
♦ 2019 – Unspeakable as Margaret Sanders
♦ 2018 – Letterkenny as Anita Dyck
♦ 2017 – The Long Road Home as Leann Volesky
♦ 2017 – Robot Chicken as the voice of Lori Grimes
♦ 2016–2018 – Colony as Katie Bowman
♦2010 – House as Julia in the episode: "Open and Shut"
♦ 2010 – Tangled as Chloe/Sally
♦ 2010–2013; 2018 – The Walking Dead as Lori Grimes in seasons 1 to 3
♦ 2009 – Prison Break: The Final Break as Sara Tancredi
♦ 2007 – Queens Supreme as Kate O'Malley
♦ 2005 – Numbers as Kim Hall