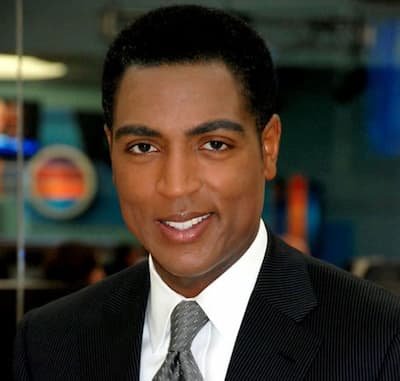 Calvin Hughes Biography
Calvin Hughes is an American Emmy Award-winning journalist, anchor and reporter currently working as a co-anchor of WPLG Local 10 News at 4, 5, 6 and 11 p.m., in Miami, Florida. He is a proud member of Kappa Alpha Psi Fraternity, Inc., an advisory board member for Suited for Success, a nonprofit that provides professional attire to economically disadvantaged men.
Calvin Hughes Education
Calvin attended and graduated from the University of Missouri-Columbia with a Bachelor of Science in journalism.
Calvin Hughes Age
Calvin 50 years old as of 2021. He was born and raised in The United States of America. His information regarding when he celebrates his birthday is currently under review. ALSO READ: Sam Brock
Calvin Hughes Nationality | Ethnicity
Hughes holds American nationality and citizenship by birth. He was born and raised in the United States of America. He is of the African-American ethnicity/heritage.
Calvin Hughes Height
Calvin stands at an average height of 5 feet 7 inches (1.70 m). Information regarding his other body measurements is currently not available.
Calvin Hughes Family | Parents
Calvin was born and raised in the United States of America by his parents. Information regarding his parents including his mother and father is currently under review.
Calvin Hughes Brother
Hughes has a brother whose name is currently not available in the limelight. However, he once surprised him once on live TV.
Calvin Hughes Wife
Calvin is currently married to his wife Bacardi L. Jackson, a senior Civil Rights Attorney. She currently works as a Senior Supervising Attorney for Children's Rights for the State of Florida/Managing Attorney, Miami. The couple tied the knot in 2015, in Memphis.
Calvin Hughes Salary
Hughes working as a co-anchor at WPLG Local 10 News at 4, 5, 6 and 11 p.m., earns an estimated annual salary ranging from $45,000 – $120,000.
Calvin Hughes Net Worth
Calvin Hughes as an accomplished American Emmy Award-winning journalist, anchor and reporter has an estimated net worth of $3 million.
Calvin Hughes WPLG Local 10 News
Calvin is an Emmy award-winning journalist currently working co-anchoring WPLG Local 10 News at 4, 5, 6 and 11 p.m., in Miami, Florida. Through his journalism career, he had an opportunity to as a news anchor and reporter in three of the nation's top 10 media markets, including Philadelphia, Atlanta and Dallas. He worked as a reporter in Lexington, Kentucky, Evansville, Ind., and Columbia, Mo., where he also started his profession on the radio at 19 years old. At the point when he joined Local 10 News, Hughes and his family didn't spare a moment to dive into the lavishly different communities of South Florida.
In 2008, after covering the story about Haitian refugees who endangered and, sometimes, lost their lives in a deadly journey set for the shores of Miami, Hughes persistently proceeded along after a chance to report comprehensively on Haiti. After two years after the disastrous 7.0 tremor struck the country, Hughes was appropriate to be one of the first journalists in Port-au-Prince to cover the devastation.
His passion for the individuals of Haiti and their unstoppable spirits has driven Hughes to get back to Haiti in excess of multiple times. In 2011, the Miami New Times cast a ballot Calvin Miami's best TV anchorperson, taking note of that he reported the account of Haiti's tremor "effortlessly and expertly."
Calvin effectively looks for freedoms to bring watchers stories that touch the spirit of our community. He was one of just two South Florida journalists allowed to report live from Pope Benedict XVI's noteworthy outing to Cuba. Moreover, he wandered away from the comfort of the anchor work area to bring live coverage of Miami Heat's four consecutive excursions to the NBA Finals and two NBA titles, and the 2012 official discussion at Lynn University.
All through his vocation, Calvin Hughes has been blessed to cover memorable monsters like Coretta Scott King, George W. Hedge and Maya Angelou, just as various accounts of public and worldwide importance. In 2015, Calvin got back to Port-au-Prince for the five-year commemoration of the tremor, and afterward weeks after the fact to Havana, where given live coverage of the noteworthy tact talks between the U.S. what's more, Cuba.
Calvin returned double that year and was the main American columnist to communicate live from the new American Embassy in Havana before the authority banner-raising service. In September, he gave a few days of live reporting on Pope Francis' noteworthy outing to three urban areas in Cuba. In February 2016, Calvin got back to Port-au-Prince to land an elite interview with Haiti's active President Michel Martelly in his last hours. In March, Calvin reported on President Barack Obama's memorable outing to Cuba.
Calvin Hughes Awards and Charity
Calvin has earned various accolades, including a 2001 Southern Regional Emmy, a few Emmy assignments and different accomplishments for his work in the community as a speaker and volunteer. He is a glad individual from Kappa Alpha Psi Fraternity, Inc., a warning load up part for Suited for Success, a not-for-profit that gives proficient clothing to economically hindered men, and gives his time and gifts as a featured expert or emcee practically week after week at schools, houses of worship, municipal occasions or beneficent pledge drives all through Broward and Miami-Dade counties.