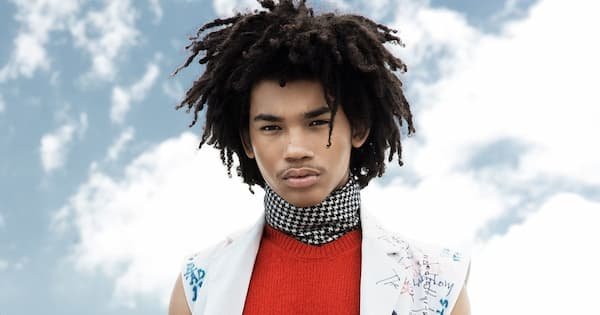 Originally published on famousintel.com
Luka Sabbat Biography
Luka Sabbat is a model, actor, stylist, and fashion designer from the United States. He is well on his way to establishing himself as an actor after gaining initial fame as a model by appearing in fashion publications such as 'Vogue,' 'Complex,' and 'Refinery29.' He is well-known for his roles in the television shows Grown-ish (since 2018), The Dead Don't Die (2019), and Giants Being Lonely (2019). (2019).

Luka Sabbat Age and Birthday
How old is Lika? He is 24 years old as of 2022. He was born in 1997 in New York, New York, United States of America.
Luka Sabbat Height
Sabbat stands at a height of 5'10" (178 cm) tall. ALSO READ: Kirk Franklin
Luka Sabbat Parents and Family 
He was born in New York, New York, in the United States of America in 1997. Luka comes from a fashion-obsessed family. His grandmother was an interior designer, and his mother, Jessica Romer, was a fashion stylist and model booker in Paris for Dior and Galliano. She is now working as a chef. Clark Sabbat, Luka's father, is a womenswear fashion designer.
Luka Sabbat Dating | Relationship
Sabbat dated Dani Stani, a young Australian woman, in 2014. He was in a relationship with Costa Rican model Adriana Mora in 2017. He was also linked to Kaia Gerber, another model. In September 2018, he was photographed with Kourtney Kardashian, a television personality, socialite, model, and businesswoman who is 19 years his senior. They were seen having dinner together on September 15 at The Nice Guy, an Italian restaurant in Los Angeles. They then went to Chateau Marmont.
Luka Sabbat Grown-ish
Grown-ish is a sitcom spin-off series that follows the eldest Johnson's daughter Zoey (Yara Shahidi) from Black-ish during her college years. Since the show's inception in 2018, Luka has played Luca Hall, a stoner and fashion design major at Cal U.
Luka Sabbat Career
Kevin Amato, who was casting young talent for Hood By Air at the time, spotted Luka Sabbat in SoHo in 2015. Soon after, he met the owner of ReQuest Model Management and signed with them. He has collaborated with Dolce & Gabbana, Hugo Boss, Vogue, Tommy Hilfiger, and American Eagle, and his work has appeared in Vogue, Complex, and Refinery29. Reputable news outlets like Forbes and the New York Times have written about him. Sabbat was a part of Adidas Originals' "Future" campaign, which allowed him to appear on a billboard towering above Times Square. In 2015, he was also chosen to walk the runway at Kanye West's 'Yeezy Season 1 Presentation' show during New York Fashion Week.
READ MORE: Todd Demers Weight Loss, Bio, Age, Wife, Daughter, Salary, WREG, Family and Net Worth
Sabbat has stated that he wants to be known for his design skills rather than his modeling abilities. He is the artistic director of the 'HotMess' project, which began as a photographic collaboration with photographer Noah Dillon.
He has also created the LUKA X MONINI line in collaboration with Italian jewelry designer Gianni Monini. Earrings, pendants, bracelets, necklaces, and rings can cost up to $2,400 in their catalog. In addition, he and his father founded the Sabbat X RLTD clothing line to benefit the charity Help Haiti. As an actor, he played Luca Hall in the TV show 'Grown-ish.' He will make his feature film debut in the upcoming film 'The Dead Don't Die.'
He claims he was discovered as a model by chance. Kevin Amato, a photographer and fashion insider, discovered Luka, who was then signed by Request Model Management. He has since walked in campaigns for Hood By Air, Calvin Klein, and Tommy Hilfiger, among others. Virgil Abloh also cast him to walk in Yeezy's first and second season shows, and he was a featured face in Adidas campaigns. Luka is a digital native who rose to Internet fame due to his ability to communicate with and network with his audience. Luka has also collaborated with fashion industry heavyweights such as Brian Capozzi, Harley Weir, and Ryan McGinley. He and Noah Dillon, a singer-songwriter, started a project called Hot Mess.
Luka Sabbat Net Worth
Sabbat has an estimated net worth of 4 million dollars.
Luka Sabbat Movies
♦  2018-present – Grown-ish
♦  2019 – The Dead Don't Die
♦  2019 – Giants Being Lonely