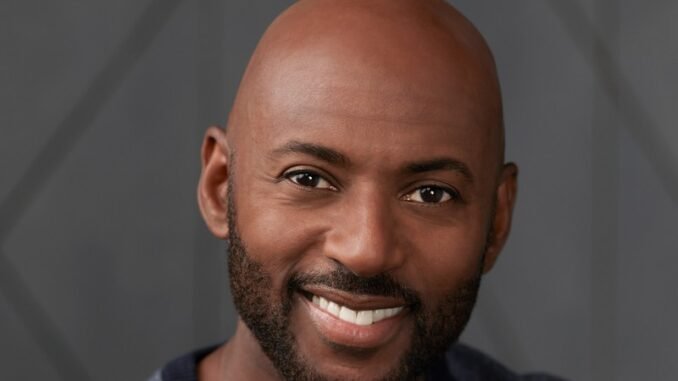 Originally published on famousintel.com
Romany Malco Biography and Wiki
Romany Malco is an American actor, rapper, music producer, podcast host, and social media influencer best known for his roles as Conrad Shepard on Showtime's 'Weeds' and Jay in the comedy film 'The 40-Year-Old Virgin.' He has received several nominations for awards, including an NAACP Image Award, an MTV Movie Award, and a Screen Actors Guild Award.

Romany Malco Age
How old is Malco? He is 54 years old as of  2022. He was born Romany Romanic Malco Jr. on November 18, 1968, in Brooklyn, New York in the United States.
Romany Malco Height
Romany stands at a height of 5'8″ (173 cm) tall. ALSO READ: Carrie Bickmore
Romany Malco Ethnicity and Nationality
He is an American national and citizen by birth. He was born and raised in Brooklyn, New York, United State of America. Malco is of mixed ethnicity/heritage/ancestry of Trinidadian And Tobagonian American.
Romany Malco Family and Parents
He was born and raised in Brooklyn, New York, the United State of America to parents from Trinidad and Tobago. However, attempts to establish the identities of his mother and father were in vain since no information about them is available to the public. It's therefore not known whether he has any siblings.
Romany Malco Wife| Taryn Dakha
On the set of 'The Love Guru,' he met Canadian ice skater-turned-stuntwoman Taryn Dakha, Jessica Alba's body double. They married in 2008, but their marriage lasted only two years. There were rumors that he was gay because of his portrayal of such characters, but he denied it. Between 2011 and 2014, he tweeted about his new girlfriend, but after rumors about his relationship with co-star Meagan Good surfaced in 2015, he claimed that he was single.
Romany Malco Children|Son and Baby
He has only one child. In January 2021, at the age of 52, he welcomed his first child, a son named Brave. He credited his preparedness to his stepchildren quoting.
Romany Malco career
Malco formed the rap group R.M.G. after graduating from high school. In 1991, the band relocated to Los Angeles and signed a deal with Virgin Records. The single "Victim of the Ghetto," taken from their 1992 album Radio Fusion Radio, peaked at number two on the rap charts. He is frequently mistakenly credited with performing one of the raps as MC Skat Kat on the Grammy-winning duet "opposites Attract" with Paula Abdul. Malco admitted to Wendy Williams that he wrote the rap but never performed it. He mentioned meeting Paula Abdul and asking her, "Who keeps telling people I'm the cat?" Derrick "Delite" Stevens, according to Malco, rapped the duet with Abdul.
READ MORE: Rosalind Brewer CEO, Bio, Age, Wiki, Salary, Net Worth, Height, Parents, Husband
The American actor was working as a music producer on The Pest when John Leguizamo encouraged Romany to pursue acting after being impressed by his dynamic personality. He later played Jay in Judd Apatow's 2005 film The 40-Year-Old Virgin and Conrad Shepard in Showtime's Weeds. He appeared in films such as Blades of Glory, The Love Guru, and Baby Mama as a supporting actor. He appeared in the 2011 film A Little Bit of Heaven as well as the Gulliver's Travels adaptation. Malco appeared in the ABC primetime one-hour drama No Ordinary Family in the fall of 2010. On the episode "T-Painful" of the popular YouTube series Equals Three, he also appeared as a guest host. In 2013, he played a concierge in the movie Last Vegas, alongside Robert De Niro, Morgan Freeman, Kevin Kline, and Michael Douglas. Romany currently plays Rome Howard on the ABC series A Million Little Things.
Romany Malco's Net worth
The American actor has an estimated net worth of $4 million.
Romany Malco TV Shows and Movies
MOVIES:
2019 Holiday Rush
2018 Tijuana Jackson: Purpose Over Prison
2018 Night School
2016 When The Bough Breaks
2016 Almost Christmas
2015 The DUFF
2014 Think Like a Man
2014 Top Five
2013 Last Vegas
2012 Think Like a Man
2011 A Little Bit of Heaven
2010 Saint John of Las Vegas
2010 Gulliver's Travels
2008 Baby Mama
2008 The Love Guru
2007 Blades of Glory
2006 The Ex
2005 The 40-Year-Old
2004 True Vinyl
2004 Churchill: The Hollywood Years
2002 White Boy
2002 The Tuxedo
2001 The Château
2001 Ticker
2000 The Wrecking Crew
2000 The Prime Gig
1999 Urban Menace
1999 Corrupt Snackbar
1992 Big Time
1990 Skat Strut
1989 Opposites Attract
TV SHOWS:
1998 Touched by an Angel
1998 For Your Love
2000–2001 Level 9
2001 Too Legit: The MC Hammer Story
2003 Miss Match
2005–2008, 2012 Weeds
2006 American Dad!
2009 Bored to Death Gay Male Escort
2010–2011 No Ordinary Family